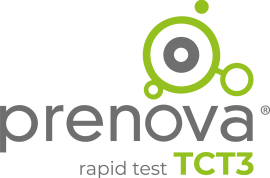 FOCUS ON A HOLISTIC PATIENT CENTRICITY
PROMICOL has kept a holistic focus on the patient who is fighting various
forms of cancer while developing the PRENOVA® platform. By giving back
TIME there are less chances on infections and other complications due to
reduced/non-active immune system. Sterility (QCrelease) testing is an important part in the release of medication to patients. PRENOVA®TCT3 is engineered especially for this purpose.
PRENOVA® for CAR-T
Today CAR–T therapies typically represent the final treatment option for patients suffering from various forms of cancer. It is critical that CAR–T therapies are manufactured and returned to the patient in an expedited manner. As such, manufacturers of CAR–T therapies must adopt and utilize Quality Risk Management (QRM) principles during manufacture, testing, and release. 
Based on a well-defined and documented microbial contamination control strategy, it should be possible for manufacturers to implement a just-in-time microbiological release strategy.
PRENOVA® TCT3 enables you to differentiate human from microbial ATP.
Our patented proprietary technology makes it possible to significantly shorten the test release time to 2-3 days for T-cell therapies.
The need for rapid testing of microbial loads in human matrixes has exponentially grown since the success of CAR-T therapies in the treatment of advanced or aggressive forms of cancer.
Patients have a disrupted immune system due to treatments and the cancer itself where a just-in-time microbiology release strategy is implemented to eliminate the risk of microbial contamination to administer the CAR-T therapy as soon as possible. This is exactly the reason why we have developed our PRENOVA® TCT3 RAPID TEST where we can give back precious time.
PRENOVA® TCT3 has a significant shorter test lead time of 48-72 hours (2-3 days) with a smaller required test volume for detection of the total microbial load.
The PRENOVA® TCT3 rapid test consists of the assay (reagents) and the reader. The NOVILITE reader is a luminometer specifically engineered for the sensitivity of the kinetic measurement of the PRENOVA® TCT3 assay.